In this special masterclass recorded for Future Music Magazine, guest instructor Mark de Clive-Lowe demonstrates the use of the Minor Pentatonic scale over a simple two chord progression. The students present in the video are part of Dubspot's three level Music Foundations program designed and developed by Martin Perna, an Austin, Texas based musician, educator and social entrepreneur. Currently available in our school in New York City and Dubspot Online, this program provides the best possible start to the newcomer in electronic music production as well as DJing.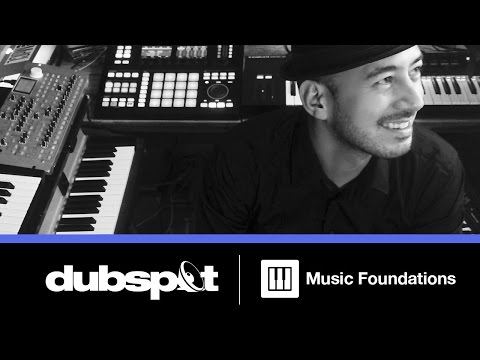 Did you know that there are three distinct types of musicians in today's global music scene? These types of musicians direct their attention to different aspects of the compositional process: one is focused primarily on pitch/melody, another on rhythm/beats, and the last on timbre/sound design. Today, the well-rounded musician will be well versed in all three of these areas and that is the main idea behind Dubspot's Music Foundations program.
Using material from Music Foundations Level 2: Keys and Melodic Theory, Mark de Clive-Lowe focuses on pitch and melody with the goal of using a set of pitches to improvise over a two chord progression, namely the Pentatonic scale (a common five note scale). The said progression goes from a C Minor chord to an F Minor chord, and that fits nicely underneath the C Minor Pentatonic scale. WIth the addition of some tension filled note choices, such as the #4/b5 "blue note", more melodic variations can quickly be created. By the end of this video we see all of the elements put together in two musical examples in different genres and at different tempi. This is a small taste of what you will learn in the Music Foundations program at Dubspot. Be sure to check out other music theory related articles here in the Dubspot Blog.
Written by Patrick Cupo, Director of Curriculum Development
Start dates and information about payment plans can be found here.
Or if you have questions, please call 877.DUBSPOT or send us a message.
Unravel electronic music's origins, build your chops, learn the language and theory, and make and play music the way you want. Students will develop a deeper understanding of the roots and lineage of a variety of electronic and dance music, strengthen their keyboard skills, and learn valuable music theory skills, deepening their creative practice and facilitating effective collaborations with musical partners.
What's Included:
Essential Music Foundations Level 1: Electronic Music Appreciation
Essential Music Foundations Level 2: Keys & Melodic Theory
Essential Music Foundations Level 3: Pads & Rhythmic Theory
This course exceeded my expectations. I went through everything I needed to have a solid knowledge of basic music theory.
- Jonathan Crespo, Miami
EMF (Music Foundations) has been an amazing experience! I didn't realize I was going to learn so much about electronic music history, something my generation missed.
- Yianno Koumi, United Kingdom