In this video, Dubspot instructor and course designer Matt Cellitti offers a glimpse at one of the most exciting new features in Ableton Live 9, the option to convert audio to MIDI. In a straightforward step-by-step process, Cellitti explains how you can extract MIDI note data directly from a live guitar performance.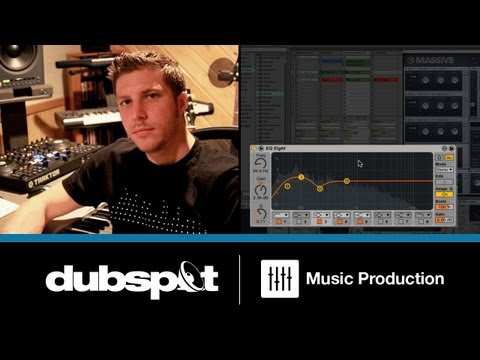 Of all the improvements in Ableton Live 9, the thing that excites me the most are the new audio-to-MIDI conversion tools. I'm always looking for new technologies that will open up new creative approaches and allow me to manipulate audio recordings in interesting ways, and these easy-to-use conversion tools do just the trick.
In this tutorial, I will take a simple guitar riff and turn it into an aggressive industrial-style synth bass by converting the riff to MIDI and using the notes to trigger Native Instruments' Massive synthesizer.
My main instrument is the guitar, not the keyboard. I write differently when playing guitar and I come up with melodies that would never have occurred to me if I was sitting down at a keyboard controller. With these new functions in Ableton, I can now start a new track on my guitar, record my playing into Live through my audio interface, and convert my riffs into MIDI files. Then I can take my guitar melodies in new creative directions by assigning the MIDI data to control different synthesizers and samplers. Another great benefit here is that I do not have to purchase additional any gear to convert my guitar output to MIDI, everything I need is built into Live 9.
So go pick up a REAL instrument and have fun turning it into something synthetic! - Matt Cellitti
---
NYC COURSES
Started January 30th; Course in session; seats are still available – Wednesdays & Fridays 6:15-9pm
February 18, 2013; Mon, Tue, Thur, Fri 3:15-6pm
March 11, 2013; Mon, Tue, Thur, Fri 10:15am-1pm
ONLINE COURSES
Started the week of February 3rd; seats still available
The week of April 7, 2013; Register today
From the studio to the stage, learn to use Ableton Live to create, record, produce, and perform your music. Learn about linear and improvisational styles of producing electronic music as we help you master the software's innovative interface.
After completing this program, you will leave with four completed tracks (an EP), a remix entered in an active contest, a scored commercial to widen your scope, and the Dubspot Producer's Certificate in Ableton Live.
What's Included:
Ableton Live Level 1: Shake Hands with Live
Ableton Live Level 2: Completing Your First Track
Ableton Live Level 3: Production Essentials
Ableton Live Level 4: Sound Design & Instrumentation
Ableton Live Level 5: Advanced Composition & Production
Ableton Live Level 6: Taking Your EP Global

"So far the experience through Dubspot is incredible, and I can't wait to go through the next levels. It's just getting better each week, and I can not wait to start putting an EP together, not just being able to put a successful track together!" - Dan Carter, United Kingdom

Start dates and information about payment plans can be found here.
Or if you have questions, please call 877.DUBSPOT or send us a message.