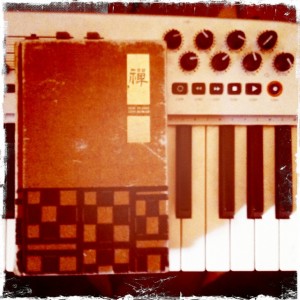 Zen Flesh, Zen Bones on my MIDI Controller, photo by the author.
The goal of learning anything well is to be able to do it easily and without constant thought and struggle.
In sports they call this 'muscle memory'. You train until the correct action becomes a reflex. The goal of music training is the same. By learning and internalizing the rules we can make the right gesture the first time. My personal study of Zen has given me a great appreciation for the beauty in a single gesture. It's something I strive for in my own production.
I often teach my students that when they find themselves struggling and unhappy with a project to save, stop and work on something else. Often what is causing you to struggle is a serious problem that you are too close to see. While a painter is painting they repeatedly step back and view the painting from across the room. We need to emulate this practice as composers and often time is the distance that's required. I was talking with J. Period, a hiphop DJ I met recently and he mentioned a quote from Quincy Jones: "music is one of the few disciplines that simultaneously use the right and left sides of our brain." This is very true and I find that a major part of the balancing act of musical creativity is not allowing either side to completely dominate. One of the goals and uses of skill building is to turn left brain activities into things which the right brain can control almost unconsciously. I was just reading one of my favorite books called "Zen Flesh Zen Bones" which is a collection of Zen Buddhist parables and koans and came across this anecdote:
When one goes to the Obaku temple in Kyoto he sees carved over the gate the words "The First Principle." The letters are unusually large , and those who appreciate calligraphy always admire them as being a masterpiece. They were drawn by Kosen two hundred years ago.
When the master drew them he did so on paper, from which workmen made the larger carving wood. As Kosen sketched the letters a bold pupil was with him who had made several gallons of ink for the calligraphy and who never failed to ciriticize his master's work.
"That is not good," he told Kosen after the first effort.
"How is that one?"
"Poor. Worse than before," pronounced the pupil.
Kosen patiently wrote one sheet after another until eighty-four First Princiiples had accumulated , still without the approval of the pupil.
Then, when the young pupil stepped outside for a few moments, Kosen thought: "Now is my chance to escape his keen eye," and he wrote hurriedly, with a mind free of distraction: "The First Principle."
"A masterpiece," pronounced the pupil.
- From Zen Flesh Zen Bones, Nyogen Senzaki, english translation by Paul Reps
As creative people we can learn a great deal from this. Going back to my piece The Critic Inside you can take the student in this example as the inner censor and experiment with the speed dating approach I discussed in my speed dating article to activate your ingrained creative reflexes. Try using the site e.ggtimer.com or any other timer device and challenge yourself to build several sketches of tracks as quickly as you can. I recommend starting with a 20 minute per sketch timer.
Matt Shadetek is a producer, DJ, writer and instructor at Dubspot.  He co-founded Dutty Artz with DJ /Rupture.  He lives in Brooklyn and writes a blog at mattshadetek.com