In this video tutorial, Dubspot's sound design course designer and instructor Evan Sutton shows you how to add, modify and customize existing instruments in Native Instruments' Kontakt script editor.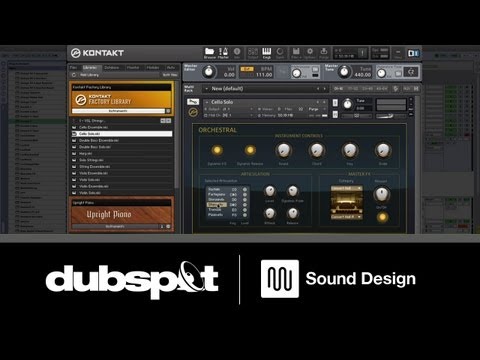 Scripts are used to customize the way an instrument plays. In the factory library, the data involving the fancy Performance View is all created using Scripts. Many of the Scripts in the factory instruments let us customize how the instrument interprets incoming MIDI data. This is the area we'll focus on in this tutorial.
To program scripts from scratch would take quite a bit of commitment and practice. Lucky for us, there are built in factory scripts that we can load up and customize. Many users will notice that the Scripts we talk about in this tutorial are not unlike Ableton Live's beloved MIDI effects. What's more is that just like Live's MIDI effects, Kontakt Scripts work together and can communicate with one another, opening up a vast modular world.
Other scripts let us customize a sampler instrument and add features much like we'd expect to see on a synthesizer. No matter what the role of the Scripts, they can be used to take a solid instrument and make it perform in new and different ways. – Evan Sutton
---
Evan Sutton a.k.a. 
Astrolith
is an electronic music producer, sound designer, and audio engineer living in New York. Evan teaches sound design and music production at Dubspot NYC and helped develop the school's Sound Design program. You can hear Evan's music and find out more about him at 
astrolith.net
and 
soundcloud.com/astrolith
.
Related Dubspot Courses:
Become fluent in the language of sound design with this comprehensive program. This six-level Sound Design program uses Native Instruments' Komplete as a platform for learning synthesis and sampling techniques. Starting with an introduction to the properties of sound, this comprehensive series of courses covers most common synthesis methods available for music production in the DAW of your choice.
Discovering the right sound is like finding a needle in the digital haystack. Learn the fundamentals to make this easier, and gain the depth of knowledge to make a good sound better. Factory content is great, but everyone has it – your mix needs something special.
Upcoming Sound Design Courses Starting in New York City and ONLINE:
March 19, 2013 in NYC – Tuesdays, Thursdays, 3:15-6pm
April 30, 2013 in NYC – Tuesdays, Thursdays, 6:15-9pm
The week of January 20, 2013 ONLINE
The week of April 21, 2013 ONLINE
What's Included:

Sound Design Level 1: Introduction to Komplete 8

Sound Design Level 2: Synthesis with Massive, FM8 and Absynth
Sound Design Level 3: Sampling with Kontakt and Battery
Sound Design Level 4: Advanced Sound Design
Sound Design Level 5: Reaktor Ensembles and Instruments
Sound Design Level 6: Reaktor Programming
Start dates and information about payment plans can be found here.
Or if you have questions, please call 877.DUBSPOT or send us a message.