In the third installment of our ongoing Music Foundations video tutorial series, Dubspot instructor Max Wild demonstrates how to reharmonize an A capella using Ellie Goulding's "Lights" as example. If you missed the previous tutorials in this series, check out part one and part two.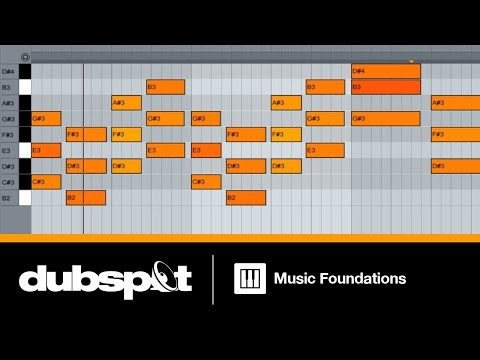 This is the third video in my three-part tutorial of remixing techniques. In the first tutorial I explained my technique in transcribing an A cappella melody, and in the second tutorial I explain how to transcribe chords to a song. This third tutorial will focus on reharmonizing an A cappella or other melody.
To those of you unfamiliar with the term reharmonization: Reharmonization means changing the harmony (or chord sequence) to a song, by replacing the existing chord sequence with chords of your own, to give the song a different sound, and personal touch. For instance you could change a song from minor to major or vice versa by reharmonizing it. This is a very useful tool in remixing.
The first thing I do when finding a new harmonic sequence to a song is figure out all the chords available to me. In this tutorial I will be exploring all the diatonic triads available to me. Diatonic triads are triads within the key of the song, in this case G# minor. There are seven diatonic triads available to me, and they are: G#min, A#dim, Bmaj, C#min, D#min, Emaj, and F#maj. Next, I find the triads that work best with the main melody note in each measure.
In my chord sequence I am using a different triad for every measure, however, how frequently you want to change chords is up to your personal taste. When figuring out my chord sequences I try to include a mixture of major and minor triads for variety. Once I have decided on a sequence I like, I am ready to record it. I can now flesh out my remix by adding my other instruments, such as bass, pads, and arpeggios, which will all follow this sequence and give the A cappella a new harmonic feel. I hope you enjoy using this tool as much as I do!  – Max Wild
---
The best producers, DJs, and musicians in the world strive to be well-rounded. So should you. In Dubspot's Music Foundations Program, you'll explore three major aspects of music: rhythmic theory, melodic theory, and critical listening.
Unravel electronic music's origins, build your chops, learn musical language and theory, and make and play music the way you want.
What's Included:
Music Foundations Level 1: Pads & Rhythmic Theory
Music Foundations Level 2: Keys & Melodic Theory
Music Foundations Level 3: Electronic Music Appreciation
This course exceeded my expectations. I went through everything I needed to have a solid knowledge of basic music theory.
- Jonathan Crespo, Miami
MF has been an amazing experience! I didn't realize I was going to learn so much about electronic music history, something my generation missed.
- Yianno Koumi, United Kingdom
NYC COURSES – morning, afternoon, evening, and weekend courses in session now; seats still available! Register today!

UPCOMING NYC and ONLINE DATES:
Morning Class: December 17, 2013. Tuesdays and Thursdays from 9:15am to 1:00pm.
Evening Class: December 4, 2013. Wednesdays and Fridays from 6:15pm to 9:00pm.
Weekend Class:December 15, 2013. Sundays from 1:00pm to 7:00pm.
ONLINE COURSES in session with seats still available. Register today!
Start dates and information about payment plans can be found here.
If you have questions, please call 877.DUBSPOT or send us a message.