King Britt is one of the best-known and most influential DJ/producers to come out of the Philadelphia music scene.  In this Dubspot video interview he discusses his new loop/sample pack project Fragments and how the process for making collections of sounds differs from that of producing complete tracks. While demonstrating how he has designed the Fragments series of sample packs, he also shows the versatility of Ableton Live and explains why he uses Ableton as his performance platform.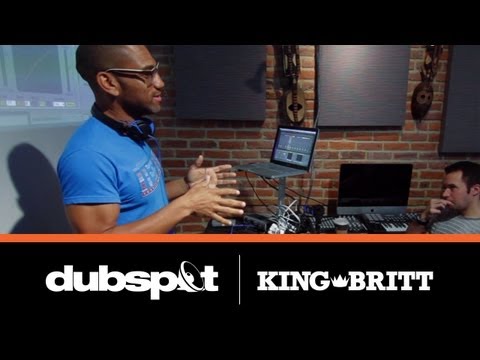 Britt goes on to stress the importance of selflessness and letting go of the musical ego while developing royalty-free sounds that will inspire other artists. Displaying the intelligence and thought behind his concept for the Fragments series, he demonstrates how these packs can be used for performance or recording and yield unexpected combinations and beats.
A lifelong musician, Britt kicked off his career with his first DJ residency in 1990, helping to popularize dance music in the Philadelphia area. Early success with electronic music productions like "Tribal Confusion" led to Britt joining Digable Planets on tour for two years, and then founding Ovum Recordings together with Josh Wink in 1994. Since then, Britt has continued to keep it fresh by taking what he likes from new sounds without losing his own musical identity, moving through hip hop and house to neo soul, techno and beyond, while remixing artists as diverse as Tori Amos and Miles Davis.
---
NYC COURSES
Morning Classes: March 11, 2013; Mon, Tue, Thur, Fri, 10:15-1pm
Evening Classes: March 19, 2013; Tuesdays and Thursdays, Fri 6:15pm-9pm
Weekend Classes: March 16, 2013; Saturdays, 12:00-6pm
ONLINE COURSES in session with seats still available. Register today!

From the studio to the stage, learn to use Ableton Live to create, record, produce, and perform your music. Learn about linear and improvisational styles of producing electronic music as we help you master the software's innovative interface.
After completing this program, you will leave with four completed tracks (an EP), a remix entered in an active contest, a scored commercial to widen your scope, and the Dubspot Producer's Certificate in Ableton Live.
What's Included:
Ableton Live Level 1: Shake Hands with Live
Ableton Live Level 2: Completing Your First Track
Ableton Live Level 3: Production Essentials
Ableton Live Level 4: Sound Design & Instrumentation
Ableton Live Level 5: Advanced Composition & Production
Ableton Live Level 6: Taking Your EP Global

"So far the experience through Dubspot is incredible, and I can't wait to go through the next levels. It's just getting better each week, and I can not wait to start putting an EP together, not just being able to put a successful track together!" - Dan Carter, United Kingdom

Start dates and information about payment plans can be found here.
Or if you have questions, please call 877.DUBSPOT or send us a message.