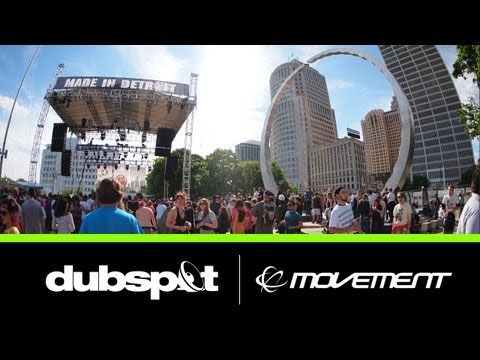 UPDATE: We've rounded up some highlights and moments from Movement 2013. Our video recap features electronic music giants such Kevin Saunderson, Derrick May, Carl Craig, Richie Hawtin, John Digweed, alongside rising DJ/producers like Nina Kravitz, TOKiMONSTA, and Dantiez Saunderson.

The Dubspot crew landed in Detroit, MI this weekend to take part in the city's annual Movement Electronic Music Festival the party that brings techno lovers from around the globe to Motor City for Memorial Day Weekend.

On Saturday May 25 the Dubspot team descended upon Hart Plaza in downtown Detroit Michigan to take part in the 2013 Movement Electronic Music Festival. We arrived as fans, participants, and journalists ready to bring our deep love for this city and our enthusiasm for music to the mix. With 5 stages of music that run from noon until midnight, the sounds of Movement's first day were diverse. With a lineup that included Moodymann, Carl Craig, Richie Hawtin,  xxxy, Ben Sims, Nina Kraviz, Ataxia, and Dave Clarke, the first day at Movement kicked into gear by mid day with music lovers from around the world flowing into Hart Plaza until the late into the evening. Below are some of our favorite moments from day one at Moment.
Detroit house legend Moodymann takes the main stage (Red Bull Music Academy) to offer electronic music lovers a dose of pure, unadulterated Motor City soul, funk, and house grooves. Sporting trademark Underground Resistance and his own KDJ gear, Moodymann took people on a journey though the foundations and history of Detroit dance music with selections ranging from Parliament Funkadelic and early techno classics like "Sharevari" by A Number of Names, throwing in some rare edits and remixes for  The main stage line-up included other heavyweights such as Carl Craig, Richie Hawtin, and Dave Clarke delivering thoroughly engaging sets.
Up and coming Manchester, UK-based DJ/producer XXXY (Rupert Taylpor) was the first DJ on Movement's main stage where he played house music for a small but but growing and enthusiastic crowd of fans.
London's T.Williams picked up the pace with a set of jacking house grooves that slowly built the energy of the main stage area.
Rising Detroit duo Ataxia reps the at the Made In Detroit stage with a healthy dose of jacking beats.
Detroit's Hart Plaza serves as a playground for music enthusiasts over the three days of Memorial Day weekend.
Detroit techno icon and local favorite Carl Craig prepares the crowd for sundown at Movement 2013.
Dubspot's Hart Thorson demonstrates Machine for attendees at Movement's technology area.
Dubspot EDU Sessions @ Youthville, Detroit (Saturday, May 25)
On Saturday afternoon Dubspot hosted five free workshops at Youthville in Detroit with Mike Huckaby (Tresor / S Y N T H / Deep Transportation), Thomas Faulds (Ableton), Justin James (m_nus), and Dubspot's very own Matt Cellitti offering music production advice, sound design tips and tricks, beat programming and composition techniques on a crowd of up and coming producers and electronic music enthusiasts.

11-11:45am Ableton Push 101 & Demonstration // Thomas Faulds [Ableton] & Justin James [m-nus]
Electronic musician and sound designer Thomas Faulds kicks off Dubspot EDU Sessions at Youville with a demonstration on how to create music from scratch using Ableton Live and Push. Push allows you interface with melody and harmony in a new and exciting ways.

Windsor-based electronic music producer and M_nus Recording artist Justin James talks about his creative process, production workflow, and programming beats off the grid with Ableton Live and Push.
12:00-12:45pm Sound Design & Synthesis Techniques w/ Komplete 9 // Matt Cellitti
Dubspot instructor Matt Cellitti offers a glimpse into our Sound Design program with Native Instruments' Komplete. Matt demonstrates basic sound design techniques and subtractive synthesis using NI's Monark and Massive synthesizers. He also used Massive, Absynth, and Kontakt, but focused a bit more on the Monark software synthesizer, on which he creates some very impressive analog-style bass sounds.
1:00-1:45pm Creative Production Strategies w/ Maschine // Mike Huckaby
Detroit electronic music stalwart, DJ/producer Mike Huckaby, fresh from Berlin, talks about creative music  production strategies and offers tips and techniques for using Native Instruments Maschine. Huckaby demonstrates how to use patterns and scenes in Maschine to generate complex productions.
2:00-2:45pm Audio To MIDI Conversion w/ Ableton Live 9 // Matt Cellitti
Matt Cellitti explores new creative possibilities for working with audio recordings using Ableton Live 9′s audio-to-MIDI conversion tool, which enables Live users to extract MIDI notes from audio files. Check out the video tutorial Matt did on this exciting Live 9 feature.
3:00-3:45pm House Music Production w/ Ableton Live 9 // Mike Huckaby
Huckaby concluded Dubspot EDU Sessions at Youthville with a look into his creative process and production workflow with Ableton Live and Maschine. Using Live 9′s audio-to-MIDI conversion tool as a launching pad to extract the MIDI data of an audio melody and drum loop, Huckaby transformed some basic samples into radically different musical ideas, and further fleshed out the melody and drums into track compositions using Maschine for additional rhythmic and beat programming and Massive software synthesizer.