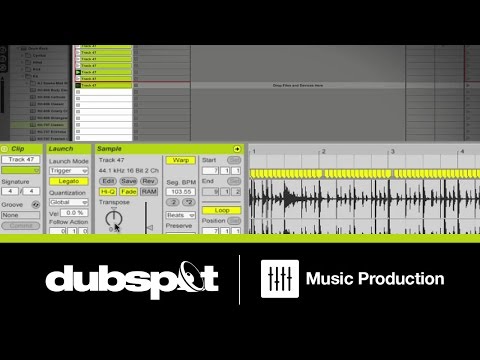 Ableton Certified Trainer and Dubspot Instructor Thavius Beck takes us through the follow action tool in Ableton Live in this video tutorial. Follow action is a tool within the launch window.  It allows you to play or program an audio or MIDI clip for a certain amount of time; essentially creating sequences within your session view with options to randomize clips without committing things to your arrangement view. Thavius demonstrates how to use this tool with a warped four-bar drumbreak loop, from which he extracts a one-bar drum loop, and alters the rhythm and timing of the loop to make the groove more fluid and flexible, not looping or repetitive. Thavius also demonstrates the usefulness of legato mode – which allows you to trigger clips without interrupting the main groove; no matter when the clip is actually triggered.
+
WIN FREE ABLETON ONLINE COURSE: 'FOLLOW ACTION' VIDEO RESPONSE CONTEST
For a chance to win a FREE DUBSPOT ONLINE ABLETON class starting December 6th, create a video response to this video in which you use the follow action tool. Simply create an audio file in which you're demonstrating the technique used by Thavius Beck in the above tutorial, upload the sound file to YouTube and reply to our video tutorial. This contest runs from now until December 1st, so please submit your response early.
+
For more production tutorials please subscribe to our channel.
Post questions about this in the comments and we'll do our best to answer them. The more detailed and precise you can be in asking your question the more readily we'll be able to help you.
For further information on the music theory used in this video check out musictheory.net