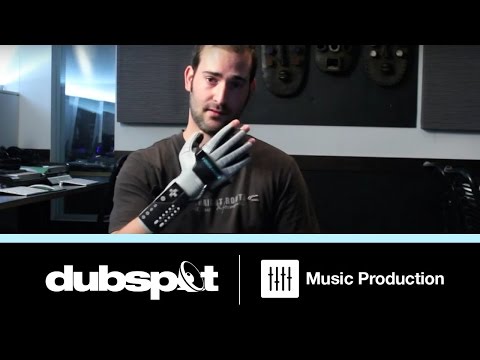 Los Angeles-based producer and controllerist Yeuda Ben-Atar (better known as electronic music performer and beatmaker Side Brain) recently stopped by Dubspot NYC to explain and demonstrate how he utilizes a 1980s Nintendo video game system controller with Ableton Live. The Power Glove controller originally released in 1989, was the first peripheral interface controller to reproduce human hand movements on a television or computer screen in real time.
Yeuda grew up playing keyboards and guitars in the 90s, but as an avid gamer he has always searched for ways to incorporate his love of videogames with his music. In this interview, Yeuda talks about his influences and inspirations, controller designs and interface devices, the similarities between video games and digital audio workstations (DAWs), mapping the Power Glove to control Ableton Live, using Max for Live, using the computer as a musical instrument, and developing a unique voice and presentation within the crowded world of modern electronic music!
---
October 29th in NYC – Monday, Tuesday, Thursday, Friday, 3:15-6pm
December 2nd – ONLINE
What's Included:
Our music production program is custom-tailored to fit your musical style. You can choose from several Digital Audio Workstations including Ableton Live, Logic Pro, or Propellerhead's Reason.
After completing this program, you will leave with 4 completed tracks, a remix entered in an active contest, a scored commercial to widen your scope, and the Dubspot Producer's Certificate in Ableton Live.
What's Included:
Ableton Live Level 1: Shake Hands with Live
Ableton Live Level 2: Completing Your First Track
Ableton Live Level 3: Production Essentials
Ableton Live Level 4: Sound Design & Instrumentation
Ableton Live Level 5: Advanced Composition & Production
Ableton Live Level 6: Taking Your EP Global

"So far the experience through Dubspot is incredible, and I can't wait to go through the next levels. It's just getting better each week, and I can not wait to start putting an EP together, not just being able to put a successful track together!" - Dan Carter, United Kingdom

Start dates and information about payment plans can be found here.
Or if you have questions, please call 877.DUBSPOT or send us a message.